Company History
KARMA Metal Products was started in 1957 by Karel Taska, a Czechoslovakian immigrant. Karel left Czechoslovakia just before that country's borders shut down in a Communist coup d'état in 1948. The machining shop on Caldwell Avenue, near the old Ohio State Reformatory ran for many years producing screw machine parts. In 1984, the company's founder passed the business on to his son, Tom Taska. Tom continued growing the business and added CNC machining capabilities to the 6600 sq. ft. shop. Throughout the years Tom maintained a loyal customer base that helped shape KARMA into what it is today.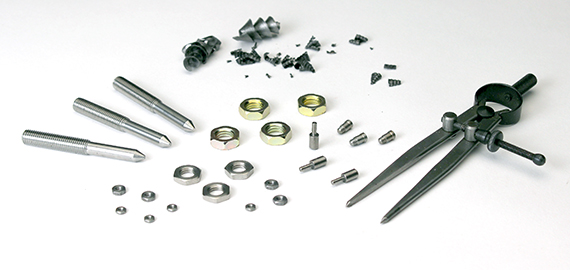 KARMA Metal Products today
In January 2016 Tom Taska sold Karma Metal Products to Jeremy Pence (PENFRA CO.) Jeremy is a tool-and-die journeyman who has many years' experience working in the area. From a very early age Jeremy was drawn to the machine trade and the idea of owning his own business.
Jeremy has expanded the local shop's capabilities since taking over KARMA Metal Products. We've employed several new operators and added new state-of-the-art machines and software to increase our growing list of capabilities, while still working hand-in-hand with loyal customers who have relied on KARMA Metal Products to supply parts over the years. For example, K.M.P. Classic Arms, who KARMA supplies with several aftermarket machine gun parts.
KARMA Metal Products houses many different levels of machines. The idea is to keep acquiring new skills and technology while still valuing and utilizing the older machines. "We want to keep acquiring advanced equipment which can 'run itself,' with help. But the older machines are still the obvious choice for certain jobs because 'the dinosaurs' are, at times, the reliable choice when it comes to setting up a job and getting it done quickly."
KARMA Metal Products stands behind their products 100%! The ultimate goal remains the same as it was in 1957 which was and is, to supply each and every customer with quality workmanship and precision parts.